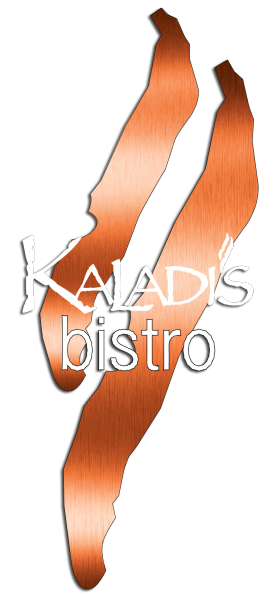 Welcome to Kaladi's Bistro
Breakfast - Lunch - Dinner - Catering
Contact-us
Salads
CAPRESE SALAD
gluten free
Spinach, fresh mozzarella, red onion, and tomato topped with sea salt & cracked pepper served with balsamic vinaigrette
$9.99
With chicken $11.99
With shrimp $13.99
COBB SALAD
gluten free
Mixed greens with bacon, hardboiled egg, red onion, tomato and bleu cheese crumbles, topped with a chicken breast - served with choice of dressing
$11.99
CRANBERRY WALNUT SALAD
gluten free
mixed greens with crunchy walnuts, sweet dried cranberries & mandarin oranges, topped with a grilled chicken breast - served with a berry vinaigrette
$11.49
Sandwiches & Burgers
Substitute gluten free bread for 1.49. Served with choice of side: Fresh fruit, kettle chips, French fries, onion rings, seasonal vegetables, or cottage cheese Add 1.49 to substitute homemade mac n cheese with bread crumbs, a cup of soup or chili. Add 3.99 to substitute a bowl of soup or chili
MAHI FISH SANDWICH
Breaded mahi-mahi, American cheese, lettuce, tomato and homemade tartar sauce on a bun
$11.99
CHICKEN BACON RANCH
Chicken breast with Swiss, bacon, ranch, lettuce and tomato
$10.99
JOHNNY H
Turkey, Havarti, tomato, red onion, cracked pepper, and mayo pressed on white bread
$8.49
Half $6.99
KICKIN' CHICKEN WRAP
Grilled chicken, lettuce, red onion, tomato, volcano sauce, and bleu cheese dressing
$8.99
CHARLIE'S TUNA
Tuna salad, tomato and red onion on white bread
$8.49
Half $6.49
THAI CHICKEN WRAP
Grilled chicken, sweet cucumber relish, tomato, lettuce, cream cheese and peanut sauce
$9.99
CLASSIC BURGER
Served with onion, lettuce, tomato and pickle
$9.49
Add cheese $0.99
EASY LIKE SUNDAY MORNING
Breakfast at lunch burger topped with American cheese, ham, bacon and an over-easy egg
$11.49
TURKEY CRANBERRY
Turkey, cranberry mayo, lettuce and tomato on wheat bread
$8.49
Half $6.49
GREEN THUMB
Black bean veggie patty with pepper jack cheese, lettuce, red onion, tomato and our spin dip
$10.49
CAJUN BACON BLEU
Cajun-seasoned burger with homemade bleu cheese dressing, bacon, lettuce and tomato
$11.49
THE DALTON
Our roadhouse burger with cream cheese, ham, sliced pickle, homemade Hawaiian BBQ and onion straws….right boot!
$11.49
Desserts
Our rotation of desserts such as homemade specialty cheesecakes and others are prepared fresh daily from scratch - ask what today's delicious selections are 4.99
CARAMEL NUT ROLLS
$4.49
MUFFINS
$2.49
COOKIES
$1.49
SPECIAL K BARS
$2.29
*There is a charge for any additional sauces. *Consuming raw or undercooked meats, poultry, seafood or eggs may increase your risk of foodborne illness.